Why do so many athlete's have difficulty transferring the skills they learn in drills and practice to actual game play? How come learning transfer from drills to game is a challenge for so many individuals? What changes so drastically when you stop drilling with a cooperative opponent and start working against an uncooperative opponent who fights back? The answer is Chaos…
Everything in the Universe is moving towards entropy. This means everything is moving from a state of organization to disorganization. Organized matter wants to become disorganized because it is more stable and less reactive in that state. This same principal holds true in sport especially martial arts.
When working out of a highly structured drill it is easy to control the amount of chaos and disorganization in that system. As soon as the structure of the drill is removed chaos will creep in and everything will become more disorganized, random and less predictable. This is what happens to an athlete when they attempt to transition from highly structured drills to live game play. In martial arts this accounts for one of the most difficult transitions from drilling to sparring. As soon as the drill ends and the opponent becomes reactive and fights back the chaos begins. The less rules implemented in the actual game play the greater the amount of chaos in the system.
If chaos stands as one of the biggest hurdles in transferring skills from practice to actual game play then how can we best over come it? One solution I have found to be very helpful is Experiential Coaching. Experiential Coaching also commonly called Experiential Teaching is based on real actual researched pedagogy.[1] The idea is to engage the learner with actual experience in what ever it is they are learning before any teaching takes place. This experience is followed up with focused reflection to help make distinctions and increase knowledge and the development of practical skill. The cycle of experiencing the content followed by further reflection and practice continues until the desired material is learned. The benefit to this type of coaching is the athlete becomes aware of chaos and is engaged with it immediately.[2]
Here are some very simplified examples of how this coaching can be implemented. Let's say you have an athlete that wants to learn how to Box. The development of good foot work is fundamentally important. Rather than practicing a foot work drill for 30 min you put the athlete in front of an opponent and just have them move around, perhaps throw some light punches (jabs and crosses) without any instruction! The idea is to gain experience and learn what the actual game, the actual experience of boxing, feels like first. Then stop and reflect on the experience. Talk about and try to identify things with the athlete like when they felt they were in balance or out of balance and why? From there you could begin to teach correct foot work while continuing to experience the actual game. Have them move around again this time giving them one task relevant cue such as maintaining equal distance between their feet while moving ie not allowing ones stance to become to narrow or wide.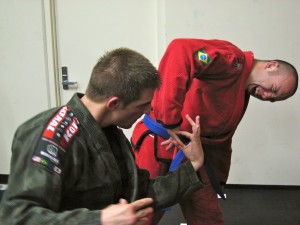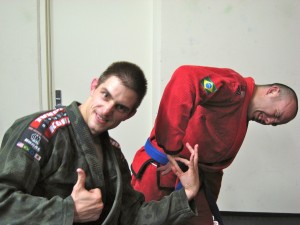 A grappling example would be to have the athlete try and accomplish the objective of a specific technique before ever learning it. This gives the learner experience first. For example try to execute a take down from a specific situation in fairly live grappling context before instructing anything. Then talk about the experience. Identify what it felt like, what the problems were and what was working.  Then implement a technique / task relevant cue ,stop and reflect again and continue to repeat the cycle over and over. The idea is to accumulate more and more experience as you are learning. It is important to understand you should not be sparring as hard as possible during these experiential sessions but with enough intensity and resistances to identify what's working, what's not working, while accumulating practical experience.
This is radically different than the didactic methods used in school and most of the academic world. Here most often information about a subject is learned without ever actually having any experience in it at all! Unfortunately in the modern world this style of learning and teaching has infiltrated into all aspects of education including martial arts and most people are resistive to any type of change.

P.S. For more training in Experiential Coaching I highly recommend considering my Martial Arts Life program. Here I only work with a limited number of clients in a small private studio setting. This is a complete martial arts and wellness program that can be participated in as a true lifetime sports activity. To get started contact me here.

References
[1] University of Michigan Center for Research on Learning and Teaching
[2] Experiential Learning and Experiential Education, Philosophy, Theory, Practice and Resources