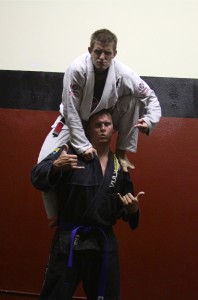 I make my full time living as an illustrator and only have a very limited amout of time to take on a very limited number of clients. If you are intrested in training I have a few small group and private classes available only that meet in the La Jolla area and in Carlsbad once a week. If this interests you contact me. I'm more than happy to talk to anyone interested and sincere about training in martial arts. If this is you I would love to sit down face to face discuss some of your training goals, ideas and have you test drive one of our training sessions. If you'd like to do this please contact me here.
My Qualifications
Educational Background for Samuel D. Kressin L.Ac.
Licensed Acupuncturist by the California Acupuncture Board
Masters of Science Degree in Traditional Oriental Medicine from the Pacific College of Oriental Medicine Graduated Dec. 2010
Bachelors of Science Degree in Exercise and Sports Science from Brigham Young University Hawaii Campus Graduated Aug. 2003
Certified Strength and Conditioning Specialist (CSCS) by the National Strength and Conditioning Association (NSCA)
Certified Personal Trainer by the National Strength and Conditioning Association (NSCA)
Certified Functional Fitness Trainer by the National Pitching Association (NPA)
Certified Massage Therapist by Mueller College of Holistic Massage Therapies
Certified Assistant Catch Wrestling Coach by Billy Robinson and Scientific Wrestling
Third Degree Black Belt Tang Soo Do Moo Duk Kwan from the U.S. Tang Soo Do Moo Duk Kwan Federation
Second Degree Black Belt Brazilian Jiu-Jitsu received from 5th Degree Rigan Machado Black Belt Chris Haueter
Phase Three Rank Combative Arts Concepts
Testimonials
"I've had a lot of coaches in my life.  Sam is among the best.  His passion for detail and talent for precise communication empower him to reach any student regardless of skill level or natural ability.  He is a lifelong learner who works tirelessly for excellence.  Sam's desire is to help each student become the best version of themselves and not a carbon copy of somebody else.  His sense of humor and holistic approach towards the human experience compel me to be a better man after every training session.  In a business where many coaches are trying to sell you a destination, Sam is focused on introducing you to a journey."
– Kelly Stewart San Diego Police Department
"Sam's consistent record has been one of dedication, sustained hard work, and eventual significant achievement in whatever he has made a commitment to. His personal values are admirable, and he not only holds these values but also lives them. It's clear that Sam has grown in the kind of spiritual wisdom which characterizes the true, advanced martial artist."
Edward Mohns M.D.
"Mr. Kressin as you will notice on his resume, is always striving to better himself and learn more. His thirst for excellence can be seen in that he has earned not only a Bachelor of Science degree but numerous credentials. I would highly recommend Sam Kressin."
Dr. Norman Kaluhiokalani EdD. Dept. Chairman Exercise and Sports Science Dept. Brigham Young Univeristy Hawaii
"I am impressed with Sam's teaching style and his vigor for life to make other people happy in the way they live. I encourage anyone reading this statement if you're doing research on Sam; let him guide you and help you, strengthen your inner soul and make you feel that much more powerful as a person."
Chris Serafin U.S. Coast Guard
"I knew Sam Kressin in Oahu Hawaii around 1997/1998, he was one of my Jiu Jitsu students. The first thing I noticed was his willingness to be kind and polite, and his easy going personality helped him to understand that Jiu-Jitsu was a opportunity and a lifestyle more than a fight system or self defense martial art. Guiding him through many classes and privates I could feel that he was going to be an excellent teacher as he demonstrated how easy he was applying the techniques that I showed him. After 5 years of classes and training together I was ready to move back to Brazil and awarded him the brown belt I left him training with Ricardo Martins a very good black belt and Rumel Tomiampos also a black belt under me with solid wrestling experience. Time went by and I kept in contact with that wrestling kid after he moved back to California he earn a Black Belt from Chris Haueter. He became a father, a teacher and real man. Sam has made it an honor for all of his instructors to see his achievements in life grow bigger and bigger. I am really honored and happy to see his progress and I wish only the best for him, his family and his students. ALOHA my friend God bless you."
Joao Morias 3rd Degree Brazilian Jiu-Jitsu Black Belt
"Sam is one of the most amazing people I have ever rolled with. There is no ego involved. He has the ability to play at "your level", which… can cut out a lot of frustration. Sam has an awesome understanding of all ranges of the game, and he is very motivational. I would highly recommend training with Sam to anyone in the area who wants to develop solid skill."
Matt Wilson Instructor, Center Line Gym, Los Angeles
Was This Post Helpful: