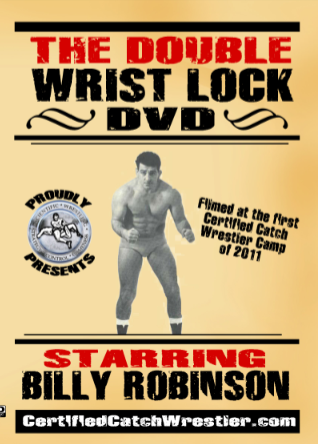 My Double Wrist Lock DVD is now available! Actually this is Billy Robinson's DVD I'm just one of the guys along with Jesse Marez helping Billy Demonstrate the techniques. The DVD was filmed in January during the first Certified Catch Wrestler Camp of 2011. In addition to the 7-8 hrs of training we did each day Jesse and myself spent an additional 4 hours with Billy while he took the two of us through the double wrist lock from nearly every position.
Shooting this DVD with Billy was an amazing experience and a huge eye opener as we learned so many positions and set-ups most of which I had never seen before. Jake Shannon filmed all four hours of the training we did and has taken the best material and stream lined it down into this very concise "45 minute long crash course in how to apply this unique catch-as-catch-can finishing hold."
This DVD is loaded with some really great and very practical material from Catch as Catch Can Wrestling. Billy Robinson is an amazing resource of Wrestling knowledge, technique and skill. I think anyone who decides to add this to their library will be very pleased. This DVD is now shipping! You can currently order a copy here; Scientific Wrestling Online
Good Luck and Good Training,

P.S. If you are in the San Diego Area and interested in learning real legitimate Catch As Catch Can Wrestling contact me (Sam) here right away. I'm currently offering training in this little known grappling style through private lessons and small group classes.
Was This Post Helpful: