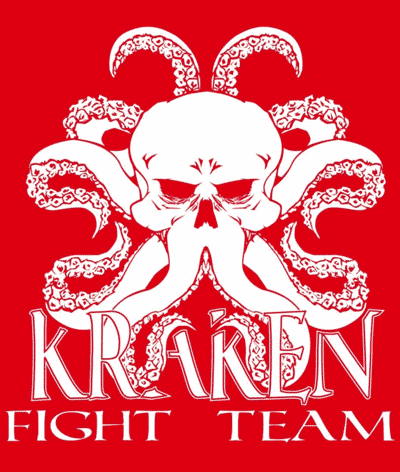 This last month I had the pleasure of having Brandon McCleese, Jay Grooms and Joey Thornsberry of the Kraken Fight Team based out of Kentucky in town for a week to train at the inaugural 2015 Scientific Wrestling Camp with Wade Schalles here in San Diego as well as hang out with me and do some training in my private studio. If you don't know or haven't heard of these guys yet you will. Recently they have been snatching up all the local titles in grappling and Amature MMA in their area and are headed on a trajectory of World Domination! While the guys were here I took some time to sit down and chat with them about their Journey into Catch Wrestling, training with the late Billy Robinson and winning a host of titles and championships.
Sam: Well let's start from the beginning how did you (Brandon McCleese and Jay Grooms) get started in training and then end up as the coaches for the Kraken Fight Team?
Brandon: A long time friend of mine and training partner for a while decided to open up a gym. Me and Joey (Thornsberry) help remodel the gym, it use to be a restaurant, for helping out he gave us life time memberships. We were training 3 times a week I did some Muay Thai and some Brazilian Jiu Jitsu before this. The Jiu Jitsu I did was pretty much Hayastan Style Catch stuff mixed with some 10th Planet stuff. At the gym that we helped to remodel we went through several coaches who all ended up getting fired or leaving for one reason or another. There were a lot of people already training there including Jay Grooms. Since all the coaches had left I started showing everyone stuff I had learned. I had purchased Bas Rutten's Big Book of Combat
 and I was showing and we were practicing a lot of stuff from there. I had also gone over to New York once and trained with Sambo Steve so I taught the guys what I learned over there as well. A lot of the stuff in Bas Rutten's books
 worked really well. But where we are in Kentucky there's not a lot of places around to go and seek out really good knowledge. After showing these guys the moves I knew some of the guys I was teaching started entering grappling tournaments here and there and having success with a lot of stuff I had taught them and it gave me a lot of pleasure to help these guys out and share with them.
Sam: Wow great. So that's how it all started? Did you come on as the coach after that?
Brandon: Yea from that point everyone on the team asked me if I would be the coach so I slept on it for a while. I really enjoy lifting people up and helping them become better at things, achieve more in life and become tougher. It helps me out and picks me up when I am able to do this. So I decided I'd give this a shot and do it.
Sam: When did Jay Grooms come on the scene with the both of you working together?
Jay: In 2009 one of my friends was like hey there's an MMA gym in Maysville Kentucky 25 min from where I live in Ohio. So I traveled over there and checked it out. After my first day I had a blast and wondered why I hadn't been doing this forever. I started at our gym Iron Fist Gym later in July 2009 I meet Brandon there and we hit it off and made friends and Brandon taught me stuff he had learned and would send me different clips of techniques and stuff on the internet to check out. Like Brandon said we pulled a lot of stuff out Bas Rutten's Big Book of Combat
but I was still under the idea that neck cranks are too dangerous and dirty to train and do to people. So I hadn't gone full on into everything yet. I had always been a pro-wrestling fan from a young age. Whenever I heard about Catch Wrestling I was very intrigued but I didn't know much about it. After the old coach left and Brandon was asked to take the position of coach and make a new team Brandon agreed to do it but said he wanted me to come and do it with him. Brandon completely took over the MMA Class in 2010 and I did my first grappling competition and got a silver medal.
Sam: That's the beginning of the Kraken Fight Team?
Jay: We have a couple friends who are graphic designers and Brandon has an octopus tattoo on his back shoulder and they ran with that idea and made up a logo called the Kraken Fight Team and everything has just been kind of rolling since then. In 2011 Brandon went out west to Utah to train with Billy Robinson at that time I didn't know who Billy Robinson was I wasn't really that aware of Pride or knew much of what was going on. When Brandon came back he had a significant improvement in his grappling and wrestling ability. Brandon started showing me stuff he had learned from Billy Robinson and we started practicing it all and doing better.
Brandon: Me and Jay make a great team together Jay has a superbrain really good at breaking down stuff and he keeps me honest. In fighting the stakes are high and we didn't want to send guys out there to compete and have them come back with concussions and have them come back hurt. Before I trained with Billy most of our wins came from having unorthodox attacks whipping some toughness and athleticism into everybody. We did decent but the more technical schools would get a hold of us and do well so I became more concerned as some of our guys wanted to take more fights. So the grappling I was concerned with needed to work in the cage. When I went to train with Billy Robinson I pretty much knew nothing of Billy at the time honestly all I knew was he was a guy that taught Sakuraba. I'd watched Sakuraba's fights and I knew how good he was so I thought the guy who taught that guy has gotta be at another level.
Sam: What did you think the first time you trained with Billy?
Brandon: So I get there and everyone is asking Billy questions about his pro-wrestling history and I'm kind of shy and awkward because I don't really know much about Billy. Basically within one camp it was clear to me that Billy was way beyond anyone I'd ever see anyplace in his knowledge. I'd sought out some training before this with some very good guys one guy I had worked with had even won the East Coast ADCC trials and had been over to Abu Dhabi to compete he was probably the highest level guy I'd worked with up to that point. Billy was just way beyond this guy in knowledge. Out of everyone I'd ever been around Billy was the best. People at the camp were telling me all these names of people they had trained with, big names of famous people who had taught them and they had never seen the knowledge Billy Robinson has.
Sam: After that you basically went all in with Catch Wrestling?
Brandon: At that point I'm totally dedicated to learning as much as I can from Billy. I came back from training with Billy Robinson and all my guys already had the toughness and the athleticism in them and now we have this great technique and I'm seeing more control and everyone started improving. Getting the connection to Billy's knowledge was just something everyone was sleeping on. They either didn't know about Billy or they'd say something derogatory about him. You know before I came out to see Billy and attend his camp people on the internet were saying he was a dinosaur and that he couldn't know if his technique really worked or not because he was so old but all of that was far from the truth and those people didn't know what they were talking about.
Sam: Yea unfortunately it's common for a lot of people to have an opinion on stuff they really don't know anything about these days. I sometimes wonder if the quick access to information the internet fosters this in a way.
Jay: Yea, Brandon trained with Billy a couple times in 2011 I got train with Billy about a year and a half after Brandon I went to the camp in New Jersey and Joel Bane and John Potenza where there. This is before they had organized the Snake Pit USA. They were both really nice guys. When I went to train with Billy I was already familiar with a lot of the techniques Billy holds near and dear to his heart like the Half Halch, the Grovit and so forth. I felt like sometimes Billy was happy to see me and Brandon training there and training together and really trying to get it. Because there were certain types of people who would go to train with Billy or train at his camp and they were just there to try and get a certificate or say they trained at a Scientific Wrestling camp with someone famous. I wanted to show I was game and that it meant more than that to me. I got to learn how Billy did the Fireman's Carry and all kinds of different things. My technique really started to improve during the camp we actually stayed and trained through lunch with Billy while everyone else went out to eat. So we were able to get a lot of personal feedback and correction from him.
 Sam: Cool, that's great you were able to train with Billy straight through lunch.
 Brandon: That's actually something I saw you do when I went out to Salt Lake City. So when me and Jay were packing up to go to New Jersey I was like, "hey pack your lunch man because Billy will coach and train us straight through lunch!" So that's what we did.
 Jay: It was a really great time Then later that year we went and trained with Billy Scott who trained with Billy Robinson for about 5 years when Billy Robinson was training people at the UWFI in Japan. The UWFI is where Billy Robinson trained Sakuraba also. Billy Scott is in Kentucky but he is on the opposite side of the state than we are about 4-5 hours away from us or in Smith Grove Kentucky.
 Sam: How was it training with Billy Scott? I've heard great things about him.
Jay: Billy Scott is a really nice guy he's super knowledgeable I can't say enough nice things about him. When we were in New Jersey Billy Robinson said "oh you're in Kentucky? You have to go see my boy Billy Scott, why aren't you out there training with him?" He was very adamant about it. So we went and did that and made relationship with him and have trained with him a handful of times since then and it's been great. Billy Scott actually had Billy Robinson out to do a seminar for his guys and so we went over again for that and some of the guys from Tennessee came up as well and it was a great time.
 Brandon: It was the first opportunity we had outside of me and Jay for our students to go meet and train with Billy Robinson. In fact our Fighter Bryan McDowell just won another 170lb amature title belt in MMA got to go with us there to train with and meet Billy for the first time. He was able to pick Billy's brain and smile a little bit when Billy told him he did a few techniques well and it was a really big confidence boost. Joey Thornsberry got to go there and train with Billy Robinson also. It was a real dream come true and a killer seminar!
 Sam: So what happened after everyone had been able to train with Billy a little bit? Did it change the mentality in the gym?
Brandon: Yes definitely. After that we started going to these competitions and people would say stuff like "these guys are catch wrestlers they don't know any submissions they are just going to try and take you down." People were just really clueless about what Billy Robinson style Catch Wrestling is. We'd get a lot of weird looks when we'd say stuff like, "double wrist lock" and "pivot" but our guys had a lot of success with what Billy had taught us.
Stay tuned this will be continued next week in Part II we are going to talk more about their approach to competition the passing of Billy Robinson and the future of Catch Wrestling.
Was This Post Helpful: