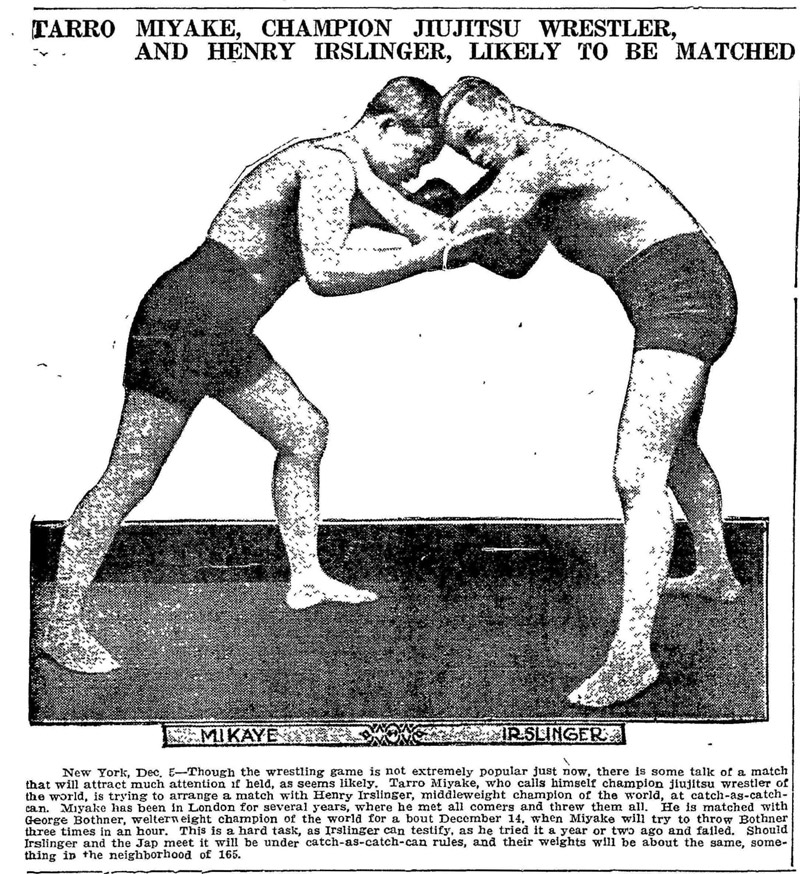 This picture above is from The Lincoln Daily Star (Lincoln, Nebraska) 6. Dec. 1914, unfortunately this match up never took place…
Henry Irslinger was an Austrian wreslter who often competed under Catch as Catch Can Rules.[1] Irslinger defeated Mitsuyo Maeda in January 1908 at the Alhambra Theatre (destroyed in 1934) on the west end of London in a Catch as Catch Can tournament. However, later that year in March, Maeda beat Irslinger in a match that Health & Strength magazine described as "one of the squarest, straightest which have been held in England in many years."[2]
Little else is known about these two matches. Mitsuyo Maeda is considered the grandfather of Brazilian Jiu-Jitsu as he was the one who would eventually teach the art to Carlos and Helio Gracie in Brazil.

P.S. Rather than pit Catch Wrestling against Brazilian Jiu-Jitsu why not master both of them? I am a black belt in Brazilian Jiu-Jitsu and also an assistant coach in Catch Wrestling with Billy Robinson. I currently have a few openings available in my private studio here in San Diego. To set up a complimentary private lesson contact me here.
References
[1] http://www.webcitation.org/query?url=http://www.geocities.com/henryirslinger&date=2009-10-25+23:55:10
[2] Health and Strength, February 15, 1908, p. 152.