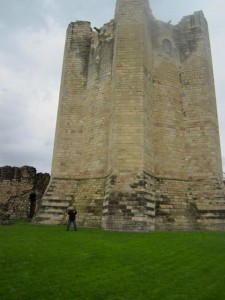 Started out with typical challenges of international flight. My plane was late causing me to miss a flight sending me through London and then onto Manchester. Billy's flight was cancelled delaying his arrival by a day. Jake's plane was on time making him the first one into the UK.
I arrived in Manchester around 12:30 in the afternoon after 30+ hours of travel. Andy Crittenden who is hosting the camp and heads up Scientific Wrestling over in Europe picked me up shortly and we made the hour or so drive to Doncaster.

After getting some sleep that night we started day one at 10 am with Billy still on his way (from the cancelled flight). Jake and I got things going by warming everyone up and getting straight into the fundamentals of the stance and pivot. Around 12:30 Billy walks into the gym and literally before even getting to the mat he's already tied up someone and teaching us how to best pin an arm in an over under tie up. We trained up until 5pm with Billy followed by Billy, Andy, Jake and myself all going out for meal together. Then off to sleep.
With three full days of training scheduled for this first camp we were really able to spend the full of day one covering all the fundamentals such as the pivot, body positioning, foot work, tie-ups, head positioning, hand fighting and more. Day two we really got into a lot of takedowns. Billy focused on chaining together multiple takedowns and takedown variations. Tying together many of the takedowns Billy has taught in past camps as well as numerous new takedowns and variations.
After an awesome day two we head out to see a real Castle that's around a thousand years or so old. (See the pictures I don't remember the name but I will post it here as soon as I find out.) Then we meet up with everyone to have a meal and listen to Billy just talk wrestling for several hours. I've never meet anyone who loves wrestling as much as Billy Robinson.
Tomorrow we start day three I'll try and get another update up soon. So far this has been such and awesome experience! Read Part II covering days 3 & 4 here…