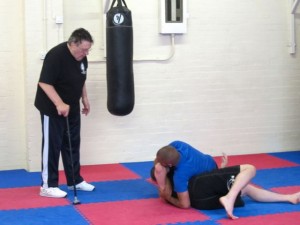 Training started at 10 am and finished up around 6 pm. The day began with stand-ups from the bottom position, sit-outs, several transitions on the ground and escaping the ankle. Billy Robinson explained if someone grabbed an ankle it meant trouble either you would find yourself in a toe hold / ankle submission or pinned.
Billy said, "If someone gets a hold of your ankle you need to stop what your doing and get it free! You don't ever let someone get control of your ankle." More importantly Billy was teaching a mind set that should be applied universally.
During the lunch break I was able to pick Billy's brain about the crotch lift. He ran me through an awesome series of techniques from this position making numerous tweaks such as keeping my elbow on the spine, setting the position correctly and turning the opponent (a common mistake) instead of lifting. I had been working on this technique for the past several months finally getting these corrections felt like a break through.
Billy also corrected my front headlock roll through showing me how to set my hip before hitting the roll this takes any need for strength out of the technique. The rest of the afternoon was devoted to submissions.
 After training we washed up and meet Roy Wood along with his daughter Andrea for dinner. Roy was recently one of the Olympic Torch bearers carrying the torch through Wigan and parts of Northern England as part of the pre-2012 Olympic Summer Games Celebrations. Currently Roy has an athlete competing this summer named Maria Dunn with whom he has been running three a day practice sessions as they prepare for the upcoming Olympics. As busy as he is Roy made the hour plus drive and took time away from his olympic schedule just to come see Billy Robinson.
This was the 2nd time Roy Wood and Billy Robinson (both Billy Riley Trained Wrestlers) have been able see each other in 40 years! The experience of  just being able to be a fly on the wall and witness modern day Catch Wrestling history as two of the last wrestlers from the old era were together again in the same room talking wrestling was incredible.
The way Billy and Roy conversed you would have thought they had seen each other a day ago. Probably one of the funniest turns in the conversation was when Roy and Billy were trying to recall the name of Billy Riley's son in law…
"His last name was Burns," Roy said, "but I can't seem to remember his first name."
Billy said he knew the name but could not recall it at the moment either. Then Billy yells out; "Matt! His first name was Matt."
"That's right!" said Roy.
"Wait a minute…this guys name was Matt Burns? That's quite a name for a Wrestler," said Jake.
It ends up his name was Mike Burns however he wrestled under the name Mat Burns. The stories Billy and Roy shared literally went on until the restaurant closed and the staff kicked us out (not kidding).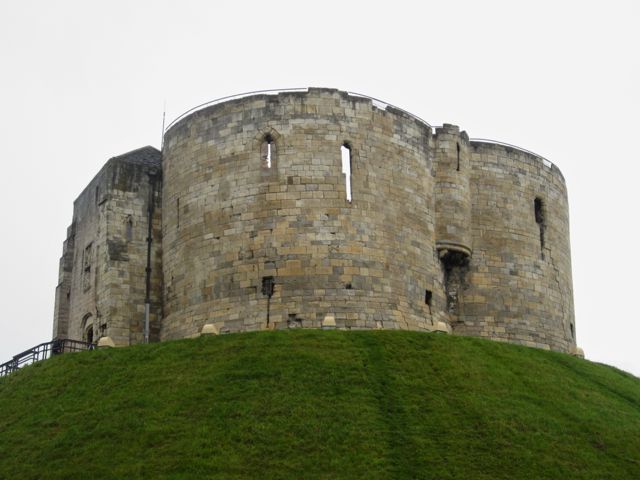 The next day we have off so we headed out to York in the afternoon. There we met up with Billy Robinson's cousin John Coxs. John is a former pro-wrestler who use to make long trips from York to Manchester just to train with Billy. Following his career in wrestling John became the mayor of York and served numerous years on the local council. We went to lunch with John and he shared some hilarious stories.
One of the funnier stories we heard was about how John went out to Hawaii to see King Curtis Iaukea only to find Curtis steeling park benches from Honolulu city parks giving them to family and friends as gifts. John tells us at the time he's an elected official back in the UK and not only is he worried about the fact that Curtis is driving him around in a van with a stolen park bench in the back but that he doesn't even have a drivers license!  John also had several stories about professional wrestling in Germany along with many more crazy antics he had encountered during his wrestling years.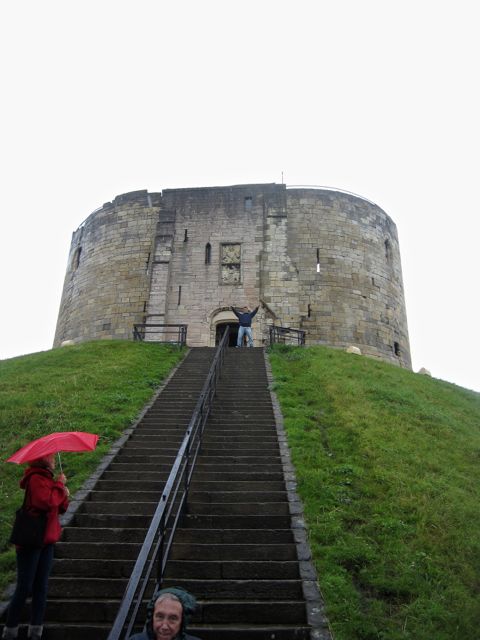 Trying to hit a Rocky pose the woman with the umbrella was impressed!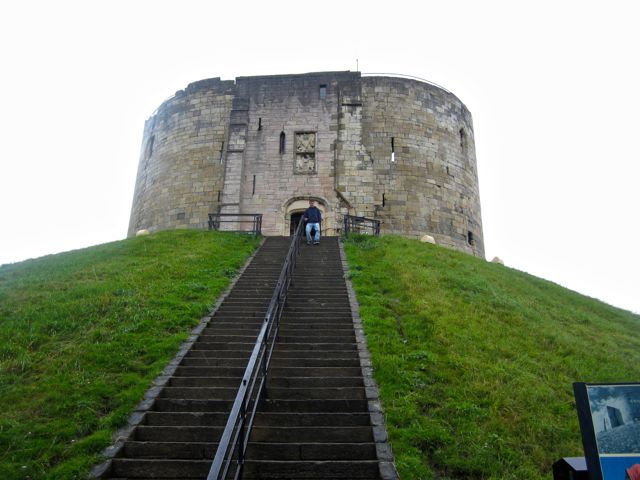 The York Castle. Billy explained to me that this is a Keep used as a final place of retreat if the castle walls become over run. After lunch we all went over to the York Castle Museum.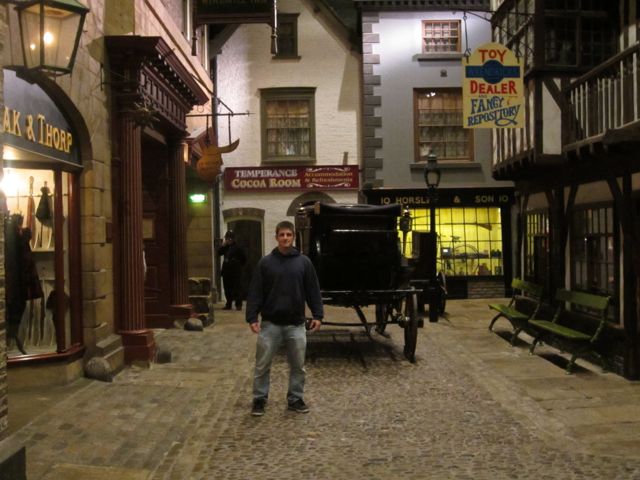 Pictured above I am standing in the center of the Victorian Street found inside the York Castle Museum. Behind me by the lamp post is a real cop but he gets to wear a 17th century uniform.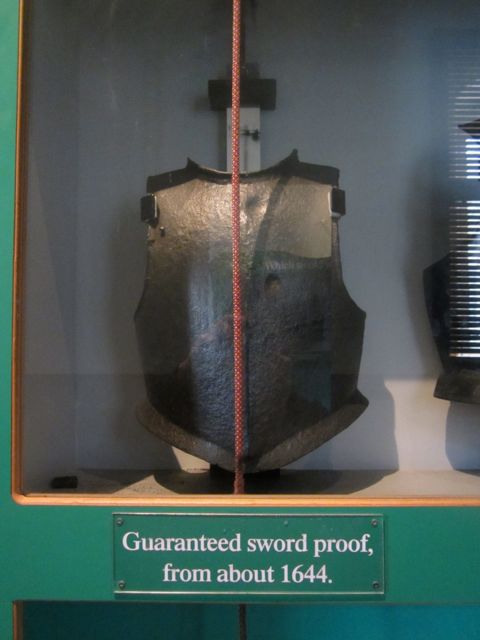 This is guaranteed sword proof!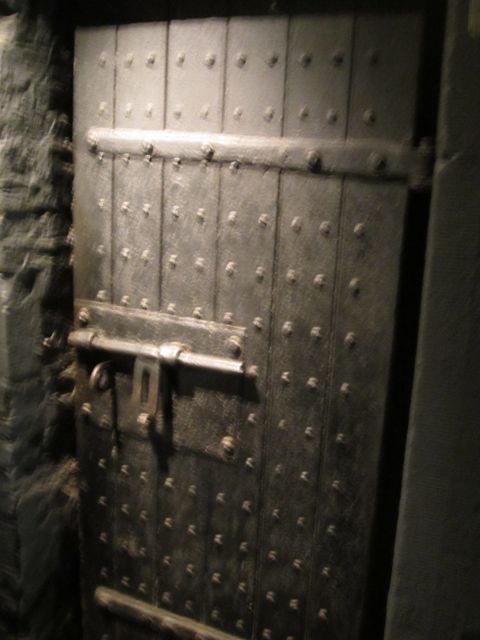 This is one of the doors of the York Castle Prison!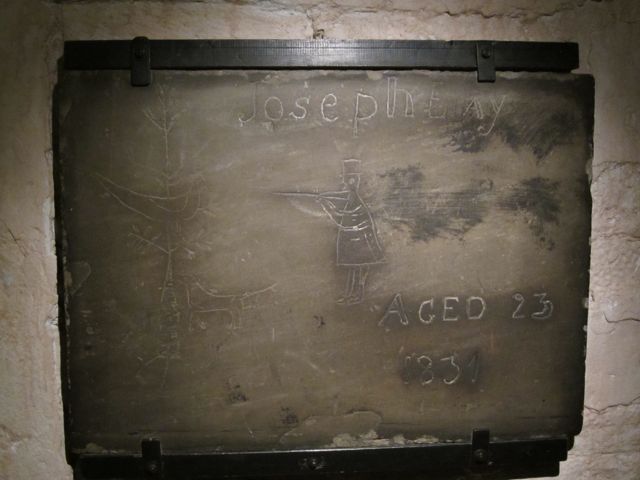 Old School Prison graffiti.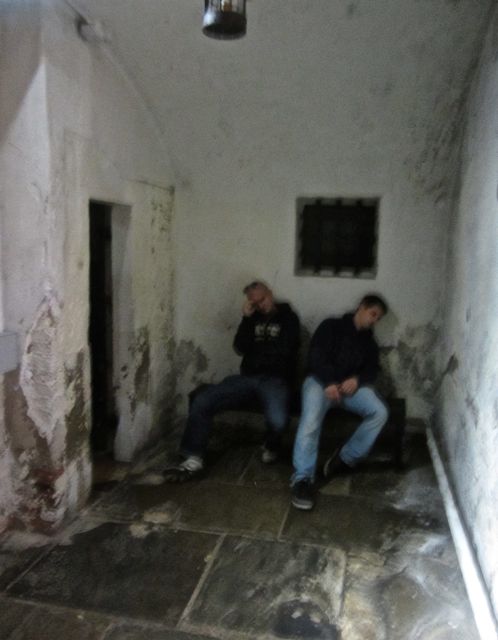 Jake and I inside Dick Turpins Cell.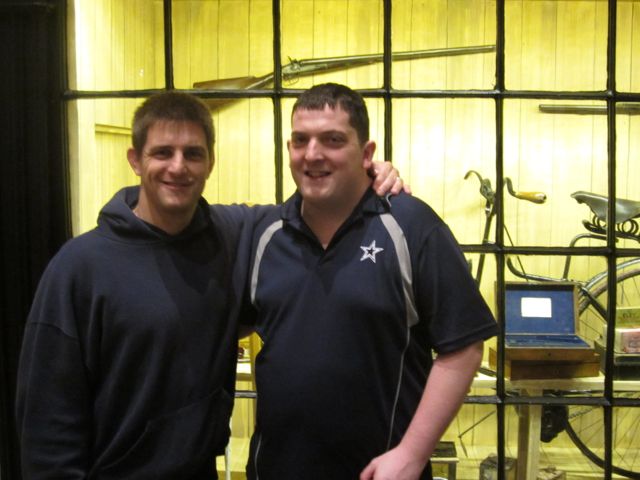 Andy Crittenden of Andy Crittenden's Martial Arts Centre. Can't even tell you how awesome this guy is thanks for everything Andy!
Read Part III covering days 5, 6 and 7 here…